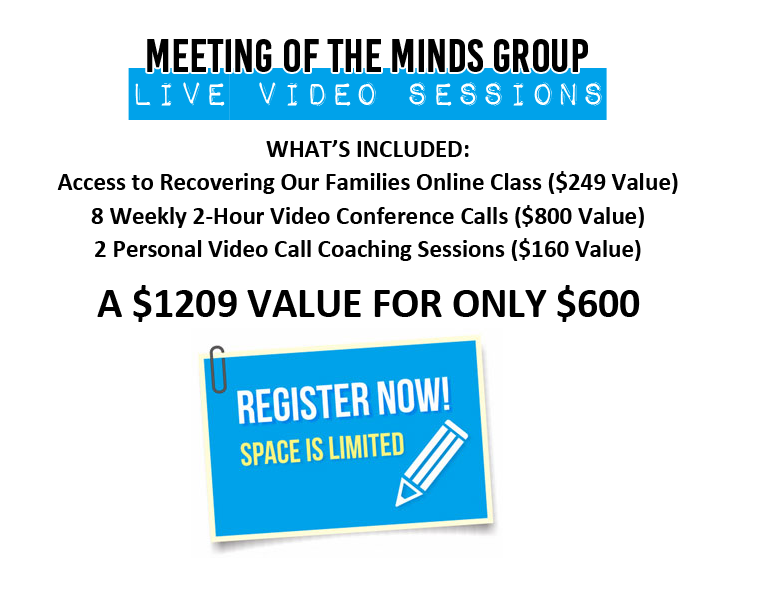 What: Weekly video conference calls to practice recovery skills in a community.
Who: Families supporting those in mental health recovery, those in mental health recovery themselves, and professionals looking to enhance their recovery practice.
Where: Using the video conferencing software Zoom, we will meet real- time online, face-to-face.
Why: Learning and practicing the skills of recovery in a group is life enhancing and affirming!
What is included in the Recovering Our Families Meeting Of The Minds Video Group?
Your secured spot in the Recovering Our Families Online Class (A value of $249)
Eight Weekly 2-Hour Video Conference calls of sharing and growing together while reinforcing the learning happening in the online class.  (A value of $800)
 2 individualized 1:1 personal video call coaching sessions with me to be scheduled at your convenience (A value of $160)
A value of $1209.00 for just one payment of $600.
Here's The Story of Why The Meeting Of The Minds Video Sessions Were Created…
Four years ago when I created the online class Recovering Our Families, my burning desire — OK my grand mission — was to bring this program to as many people as possible worldwide.
I wanted families like yours, families struggling with mental health, to learn that recovery IS possible.
I wanted families like yours, and everywhere in the world, to get the education my family didn't get when I was diagnosed with bipolar disorder at 16 years old.
I wanted families to have the opportunity to learn the transformative skills of:
Practicing hope-inspiring strategies
Having a strengths-based perspective
Using effective communication skills in difficult times
Feeling confident and clear in setting boundaries
Understanding their role in their relatives recovery
Honoring the sacred importance of their own self-care
I knew families benefited tremendously from taking the time to learn and practice these skills and integrate them in a positive way in their daily lives.
Before Families Healing Together was developed, I worked at Family Outreach and Response Program in Toronto where we did face-to-face classes. We collected experiential evidence that our classes truly did deliver these skills and benefits:
Offer families new information and perspectives
Helped to create recovery oriented environments
Facilitated the healing of relationships
Increased depth of connection
Supported recovery from disabling emotional distress
Brought families to greater peace
We shared this curriculum in-person in groups with a maximum of 12 people per group. In these groups we would laugh, cry, hug, and ultimately – heal and grow together.
Now, online, more than 600 people from all over the world have taken the Recovering Our Families class (sometimes with as many as 70 people in one class!)
Now, our experiential evidence that the course is effective is not just "experiential evidence" but has also been studied, proven and published. (Login to Academia.edu and read the paper here if you're interested).
We've come a long way!
But…I have to admit. I very much miss seeing your faces.
And I know that in any relationship there's a direct and tangible value to being present and visible and being able to see each others faces and body language.
So I had an epiphany of sorts this morning. Why not do both?
Now, in addition to the online Recovering Our Families class, you can also choose the option of joining a live, real-time interactive discussion group where we can see each other, face-to-face!
Technology has advanced enough that we can actually do this, live, from wherever you are, from the comfort of your own home. I've secured a platform from which we can meet as a small group and see and hear each other in real-time. All YOU need is what you've probably already got: your webcam + internet connection.
So let's do it!
If you're interested, excellent! Because this is a personal and highly interactive group AND includes one-on-one coaching with me, space is limited. If you're keen to attend please go ahead and book now. The 12 available spaces are offered first come, first serve.
Hope you're doing well and standing in hope and strength.
Thank you for being part of the worldwide network of survivors and thrivers passionate about recovery and families healing together.
Questions? Need more info? Want to know when it begins? Want to join the Live Group but wish for a payment plan to ease the financial pressure? Email me! You know where to find me.
Hope to SEE and HEAR you soon!
Save
Save